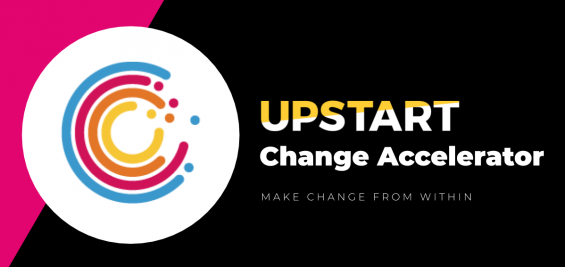 Applications for the 2021-22 program are now closed.
UpStart's Change Accelerator equips intrapreneurs – the bold leaders making meaningful change within our community's Jewish institutions – with a set of lifelong skills, tools, and mindsets to adapt to any challenge. This 9-month program will draw on the frameworks of design thinking and adaptive leadership as participants learn to think like an entrepreneur, gaining a new understanding of how to think strategically, change course quickly, and create bold solutions to any challenge they face.
The 9 month Change Accelerator includes:
Training: Learning that will draw on the framework of Adaptive Design to help participants address identified challenges
Cohort Learning: Facilitated connections to a supportive cohort who will process, brainstorm, and navigate challenges together
Funding: Opportunity to apply for R&D grants for experimentation
Meet the bold change leaders selected to participate in the National Change Accelerator in 2022.

ELIGIBILITY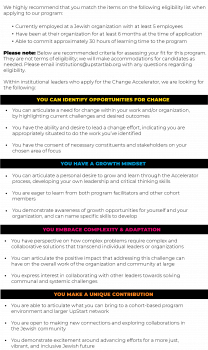 FREQUENTLY ASKED QUESTIONS
Who is this program for?
UpStart strives to model our vision of a just, vibrant, and inclusive future. We strongly encourage applications and participation from individuals with varied identities and backgrounds, including people of all faiths, BIPOC, Sephardic and Mizrahi Jews, Jews of color, women, people with disabilities, immigrants, LGBTQIA people, and people who come from low income or working class backgrounds. We are committed to ensuring our programming is representative of the full diversity of our community and that our content is accessible and inclusive for all. If you have any accessibility questions or concerns during any point of the application process or beyond, please reach out to us at institutions@upstartlab.org for more information and support.
The Change Accelerator is a program for intrapraneurs – individuals working within an established organization. We highly recommend that applicants match all three items on the following eligibility list when applying to the program: 
Currently employed at a Jewish organization with at least 5 employees

Has been at their organization for at least 6 months at the time of application

Is able to commit approximately 30 hours over 9 months to this program 
Do I need to be at my organization for the duration of the program? 
The work that you will be doing in the Change Accelerator will be directly applicable to your job. We also recognize that we are living in unpredictable times and your continued participation in the program will not be impacted by an involuntary change in employment status. 
Is there a fee to participate?
Thanks to generous partnership and support from institutional funders we are able to offer this opportunity at no cost to participants.
What is the time commitment for this program? 
The program is a 9-month commitment. There will be both synchronous time (learning together) and asynchronous time (work outside full cohort gatherings). Estimated time breakdown: 
Synchronous time: Approximately 20 Hours  

Asynchronous time: Approximately 10

Hours 
Participants in the Change Accelerator will be from all time zones. All synchronous programming will take place during the weeks listed below in the window of 12 pm – 5 pm ET and will always be on a Tuesday, Wednesday or Thursday. In an attempt to accommodate as many schedules as possible, specific cohort gathering times will be determined based on the needs of the individual groups. 
Orientation: Week of January 31, 2022
Unit 1: Week of 2/28 and 3/7
Unit 2: Week of 4/25 and 5/2
Unit 3: Week of 5/30 and 6/6
Unit 4: Week of 9/12 and 9/19
Commencement: Week of 10/24
What happens if I am unable to attend one of the gatherings? 
We believe that coming together as a cohort to learn is one of the most valuable components of the program and we encourage you to participate in all synchronous gatherings. We also get that life happens! Our policy is that participants may miss up to one synchronous learning moment and will be asked to connect with their facilitator to catch up.
Do I need to be in one of UpStart's hub cities?  
We are once again excited to offer the Change Accelerator nationally.All programming will be conducted virtually so you can be located anywhere. 
What are the expectations around organizational size? 
Much of the work you will be doing in the Change Accelerator involves other people. Participants need to be working within a team, which may include full or part-time staff members, board members etc. The minimum suggested size is 5 staff members. There is no maximum organization size.
Do I need a computer, wifi, video camera, or other technology to be able to participate?
A computer with a camera and reliable Internet connection are critical tools to be able to fully participate in the program. However, these should not be a barrier to your application and we are committed to meeting your needs. Please email us at institutions@upstartlab.org if there are specific accommodations we can support you with. 
I have a disability, what accommodations will there be for me?
UpStart strives to model our vision of a just, vibrant, and inclusive future. We strongly encourage applications and participation from individuals with varied identities and backgrounds. If accepted into the program, you will have the opportunity to request any accommodations you need, and our team will work with you to ensure an optimal learning experience for your specific needs.
Can more than one person from an organization be in the program? 
We encourage anyone who is eligible and interested to apply. This year, we will be conducting several cohorts concurrently. Participants from the same organization may or may not be in the same cohort if all are accepted. 
ABOUT UPSTART
UpStart partners with the Jewish community's boldest leaders to expand the picture of how Jews find meaning and how we come together. Whether someone is starting a new Jewish venture or reimagining what an existing one has to offer, UpStart gives them the entrepreneurial tools and network they need to build the Jewish community of the future.
Want to learn more? Read up on our programs, check out our latest insights, and sign up for our mailing list.
Have additional questions? Reach out to us any time at institutions@upstartlab.org.
Interested in supporting our work? Donate today.

Our purpose is to enable entrepreneurs to bring bold Jewish ideas to light. We help them reach Up to people in new ways that are meaningful, more inclusive, and create a brighter future for our Jewish community and the world we share.
Recent Posts
Share This Story, Choose Your Platform!