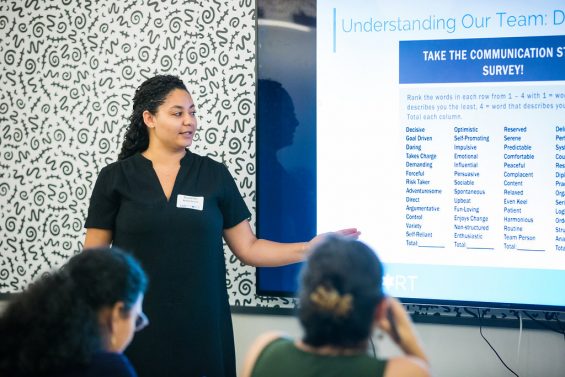 Earlier this month we hosted a virtual field lab exploring the topic of Supporting Teen Mental Health and Wellness from Afar. Together with the experts from UpStart network member BaMidbar Wilderness Therapy, we sought to understand what we can be doing for teens and their mental health during this time of crisis.
Our first field lab filled up quickly and there were a number of people on the waiting list. The good news is, if you missed it the first time, you have an opportunity to participate this month!
Join us as we explore:
How might we care for teens?
How might we have teens feel supported by caring adults in their communities?
How might we empower teens to find their voice?
Please submit any questions you have for BaMidbar staff about supporting teens in advance to daliac@upstartlab.org.
This virtual learning lab will take place on Friday, May 15. RSVP below. Once you RSVP you will be sent the Zoom link. The program is open to anyone who interfaces with teens, whether they are full-time, part-time, volunteer, or lay leaders. Feel free to forward this opportunity along to a teen professional if you are not one. Space is limited to 25 participants.
Participants will:
Learn from experts in the field to understand how best to support their teens through this time
Analyze their own approach to interacting with their teens during this time
Forge new connections to other community professionals and volunteers
Friday, May 15, 2020
10:00 AM – 11:30 AM Mountain Time
9:00 AM PT / 10:00 AM MT / 11:00 AM CT / 12:00 PM ET
Details and Zoom link will be provided upon RSVP
RSVP Required
[button url="https://docs.google.com/forms/d/e/1FAIpQLSdq4u-dJOF9GlEc1iiBElveMR_aBsRq3bMwH5O2o17LijA8XQ/viewform"]RSVP[/button]
Our purpose is to enable entrepreneurs to bring bold Jewish ideas to light. We help them reach Up to people in new ways that are meaningful, more inclusive, and create a brighter future for our Jewish community and the world we share.
Recent Posts
Share This Story, Choose Your Platform!