Below, find everything you need to know about the Venture Application, including:
About Entrepreneur Sprints
About the Venture Accelerator
Informational Webinars
Frequently Asked Questions
UpStart's Venture programs elevate the Jewish community's boldest entrepreneurs and their groundbreaking ventures to their next stage of growth. Please review Selection Criteria & Eligibility to determine which program is right for you.

ABOUT ENTREPRENEUR SPRINTS
Entrepreneur Sprints are short term, 7-9 month, immersive training programs designed to nurture entrepreneurs and cultivate ventures in their earliest stages of development. Entrepreneur Sprints guide early-stage ventures towards developing proof of concept–a way of demonstrating that your initiative actually works. There will be a National Entrepreneur Sprint for initiatives across the country, as well as a New York Entrepreneur Sprint in Collaboration with UJA Federation focused on leaders and organizations in the New York region.
Training – A two-day, in-person convening focused on giving leaders the tools and frameworks to support their ventures' growth.
Customized Support – Individualized coaching focused on your venture's progress towards benchmark goals.
Funding – Access to a $2,500 unrestricted grant and a learning process to enhance your ability to articulate your business model.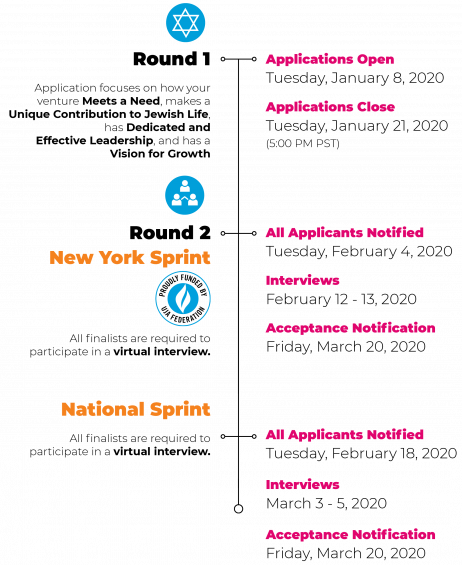 ENTREPRENEUR SPRINT PROGRAM DATES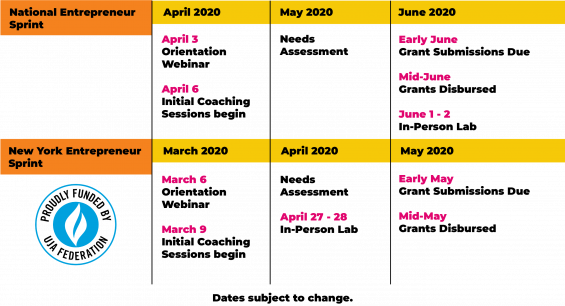 Applications are closed. Please reach out to ventures@upstartlab.org if you have any questions about the application content or the selection process.
ABOUT THE VENTURE ACCELERATOR
The UpStart Venture Accelerator elevates the Jewish community's boldest entrepreneurs and their groundbreaking ventures to their next stage of growth. The 18-month intensive program provides a select cohort with the training, connections, and funding to activate a plan for sustained growth and impact. The 18-month Accelerator includes:
Training – Convenings and coaching focused on your organization's progress towards benchmark goals.
Connections – Facilitated connections to our network of consultants, advisors, funders, and alumni, as well as to a cohort of inspiring and ambitious peers.
Funding – Access to up to $100,000 per venture in unrestricted funding. Participants are encouraged to use funds for experimentation and scaling.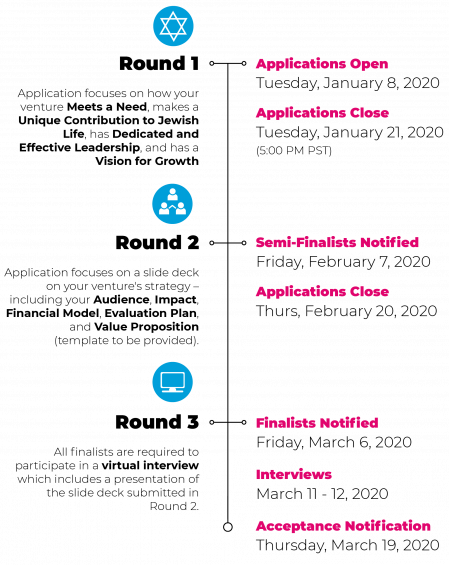 VENTURE ACCELERATOR PROGRAM DATES
INFORMATIONAL WEBINARS
UpStart will host Informational Webinars to review both Venture Accelerator and Entrepreneur Sprint eligibility criteria, provide insight into the programs' requirements, and answer your questions about the application process.
Complete the form below to access the free webinar recording.
FREQUENTLY ASKED QUESTIONS
Is there a fee to participate?
There is no fee to participate in the Entrepreneur Sprint.
There is a $2,500 participation fee for the Venture Accelerator.
What is the time commitment for these programs?
Entrepreneur Sprints: A 6-month commitment, consisting of one in-person gathering followed by remote coaching sessions. On average, a Sprinter will spend about 5-10 hours per month as a program participant.
Venture Accelerator: An 18-month commitment. Participants are required to attend three 3-day in-person gatherings, The Collaboratory (two convenings in total), quarterly webinars (1 hour each), and monthly coaching calls (90 minutes each).
I am a full-time student or employee of another organization. Can my organization still apply?
Entrepreneur Sprint: Participants in the Entrepreneur Sprints may be part-time leaders or volunteers. Participating ventures should aspire to have full-time staff in the future.
Venture Accelerator: Participating organizations should have at least one full-time employee dedicated to the long-term success of the venture and available for active, consistent participation in the Venture Accelerator.
If I applied for an UpStart program in the past, may I reapply?
Past-applicants are welcome to reapply, yet we strongly urge you to first review the criteria and eligibility requirements and attend an Informational Webinar. If you believe your venture aligns with both the eligibility requirements and criteria, please email ventures@upstartlab.org to set up a time to connect with an UpStart staff member to touch base before you apply.
I'm an interfaith organization with a specific focus on the Jewish community. Am I eligible?
Check out our selection criteria regarding "Makes a Unique Contribution to Jewish Life." We welcome you to apply, as long as your mission aligns!
Do I have to live in an UpStart hub city to participate in these programs?
Living in an UpStart hub city (Los Angeles, Chicago, New York, Bay Area, Denver) is not required to participate in either the Entrepreneur Sprint or the Venture Accelerator.
I've read all of the information in the application and I'm still not sure if my venture meets the criteria. How can I get more information?
UpStart will host informational webinars to review the program criteria and eligibility requires, provide insight into the program's arc of learning, and answer your questions about the application process. Find a webinar recording here.
What do I do if I'm having technical difficulties with the application?
There is a small "i" icon in the top right corner of the Survey Monkey Apply page. Clicking that will show a drop-down menu of options for troubleshooting and getting connected with tech support.
Our purpose is to enable entrepreneurs to bring bold Jewish ideas to light. We help them reach Up to people in new ways that are meaningful, more inclusive, and create a brighter future for our Jewish community and the world we share.
Recent Posts
Share This Story, Choose Your Platform!