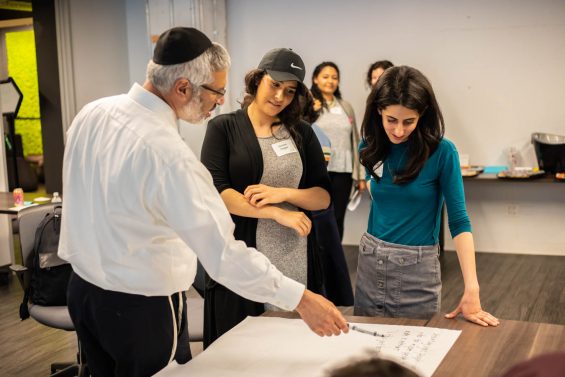 Leading change in an environment that doesn't seem ready for it can be lonely and frustrating. Individuals within larger organizations can face obstacles, lacking authority to test bold ideas, the skills to gain buy-in across teams, and the supportive network to make it happen.
In the established institutions that drive so much of Jewish life, leaders can play a pivotal role in moving the needle. Change Accelerators bring together a select cohort to grow their impact as Jewish communal change agents.
This intensive program for intrapreneurs – changemakers within established institutions – equips participants with practical skills to identify and launch bold initiatives that meet their constituents' evolving needs. As they shape their idea, they are supported by a community of peers, as well as expert coaches.
PROGRAM BENEFITS:
Change Accelerator fellows will:
Identify and select an opportunity to create a meaningful change within their organization
Learn and apply Design Thinking and Adaptive Leadership methodologies to address a particular opportunity for bold new ideas in their work
Test a new project or process in their organization
Gain a community of practice with other intrapreneurs in their cohort to support their efforts to be changemakers from within
UpStart Change Accelerator participants will receive:
National recognition for their participation
Group coaching from intrapreneurial experts
Lab-like workshops and seminars to learn best practices and test ideas
An opportunity to gain community feedback & support for their innovations
Applications are now closed.
ELIGIBILITY
To be eligible for either Change Accelerator, fellows must currently work for a Jewish organization in Chicago, have at least 3 years of professional experience, and plan on staying at their current organization at least through March 2020.
Is the Change Accelerator for you, a colleague, or someone else you know? Please reach out to us with any questions, and help us spread the word to your networks!
WHAT PARTICIPANTS ARE SAYING
Here's what our Cohort 1 Change Accelerator participants have been saying…
"Participating in this program has provided me along with senior leadership at JUF, the opportunity to collaborate and really think through a specific challenge in a methodical way." – Chicago Change Accelerator Participant, Cohort 1
"[This work] brought me back to focusing on our students' needs instead of other factors like finances, program history, etc…" – Chicago Change Accelerator Participant, Cohort 1
"I'm very satisfied with my staff's participation! The step-by-step guidance and encouragement, along with timelines, kept her and our team accountable and moving forward."
– Chicago Change Accelerator Participant Supervisor, Cohort 1
HOW TO APPLY
Applications are now closed.
Our purpose is to enable entrepreneurs to bring bold Jewish ideas to light. We help them reach Up to people in new ways that are meaningful, more inclusive, and create a brighter future for our Jewish community and the world we share.
Recent Posts
Share This Story, Choose Your Platform!