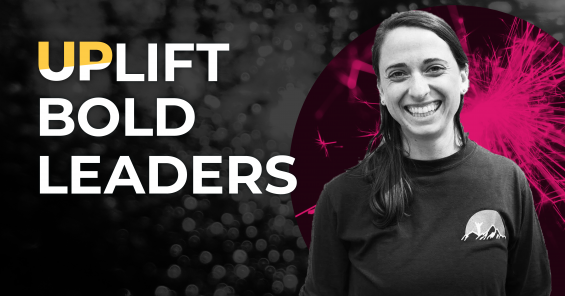 In celebration of Global Entrepreneurship Week, UpStart is highlighting inspirational stories of impact from our network.

If ever there was a year to appreciate the outdoors, this has been the one.
BaMidbar Wilderness Therapy – one of more than 100 groundbreaking organizations in the UpStart Venture Network – was thriving.
Moreover, it was helping Jewish individuals thrive.
BaMidbar Director Jory Hanselman Mayschak knew how transformative this work was first-hand: Having lost friends at an early age, she experienced the transformative impact of wilderness therapy as a teen, and emerged determined to create the first Jewish experience like it for others.
In the mountains of Colorado, and under Jory's leadership, small groups of Jewish-identified emerging adults learned how to make fire, build their own shelters, and connect more deeply with themselves after struggling with depression, anxiety, and mental health issues.
When COVID sent participants indoors, Jory realized that in-person gatherings would no longer be practical for some time.
She also anticipated that the stressors confronting individuals – and the need for therapeutic mental health programs like hers – would be greater than ever.
She knew she needed to pivot, and quickly.
To address these immediate and critical needs, UpStart raised nearly $800,000 to launch the Jewish Innovator Payroll Relief Fund (JIPRF), which provided emergency grants of up to $25,000 to 32 ventures between April and May 2020. These grants helped organizations retain staff and continue programming and services, generally by pivoting to virtual formats.
Thanks to Jory's quick action, demand for BaMidbar's new virtual mental health services is skyrocketing.
As an alum of the UpStart Venture Accelerator, Jory also turned to UpStart for 1:1 coaching and rapid-response webinars on strategic partnerships and alliances during COVID, which has been particularly helpful to BaMidbar as it serves a growing national audience online.
"I'm really proud that our team is able to adapt and respond to the moment, and take external information to inform how we're approaching our programming," says Jory.
"That's something that I want to make sure continues to be strong, especially as I see us doing a lot more programming through strategic partnership."
As Jory notes, the tools for individual resilience that BaMidbar teaches are the same as those that develop resilience in organizations.
"Resilience is one of our key outcomes—building confidence, skills, and community support to help people navigate life's challenges and thrive in the face of adversity. That to me is also the definition of what it means to be resilient as an organization—having the confidence and drive and skills and support structures to be able to navigate those challenges as they arise."
Consider a gift to UpStart to provide real-time coaching, training, and discretionary grants that support 100+ ventures – and resilient entrepreneurs like Jory – in our network.
Our purpose is to enable entrepreneurs to bring bold Jewish ideas to light. We help them reach Up to people in new ways that are meaningful, more inclusive, and create a brighter future for our Jewish community and the world we share.
Recent Posts
Share This Story, Choose Your Platform!