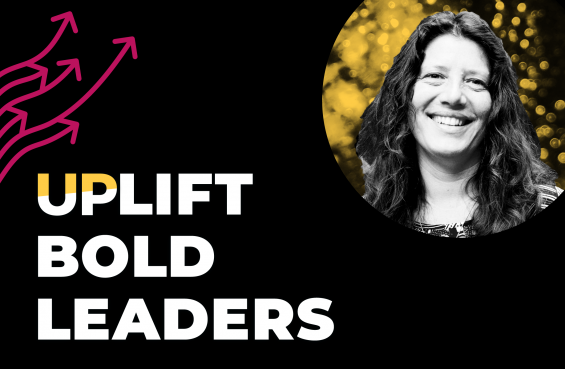 In celebration of Global Entrepreneurship Week, UpStart is highlighting inspirational stories of impact from our network.
Raised in a rural California community and in an interfaith home, Eleyna Fugman grew up with a strong sense of social justice, but a weaker sense of what it means to be Jewish.
Her family would celebrate Hanukkah, but only when the holiday appeared on whatever calendar they were using that year.
A key turning point in Eleyna's Jewish journey was as a young adult in San Francisco in the 1990s. Right around the time she was coming out, she discovered Shabbat through small home-based gatherings, hosted by members of the local queer Jewish community.
"As someone raised without Jewish community or knowledge, my welcome to Judaism was done by other queer Jews," Eleyna told UpStart in a recent interview. "Over the past 25 years, I've seen consistently that our queer Jewish community understands marginalization – and because of that we excel at welcoming everybody. We know that there's nobody who shouldn't be welcomed into the Jewish sphere, that all of our voices are important and should be central."
In 2016, Eleyna co-founded TischPDX, an initiative to identify and train young adult leaders from marginalized identities – including queer, interfaith, and BIPOC – who have demonstrated a commitment to leading their Jewish peers. Through a 16-month leadership incubator, these emerging leaders are offered 50 hours of Jewish education and skill building, combined with peer support, mentorship and stipends.
"Our model is building leadership from the outside in," Eleyna explains. "Instead of providing programming that marginalized Jews might come to, we are going to marginalized Jews and saying, 'What are you doing? How can we help you?.'"
One recent TischPDX participant designed an immersive queer-focused Hebrew alphabet course in their living room that incorporated kabbalah, calligraphy, and gematria – all methods that help learners of all Jewish learning backgrounds focus deeply on the meaning of each letter.
"There's a certain delight that we adults who were raised outside of Judaism or raised without Jewish education take in these basic things like learning the aleph bet," said Fugman.
In 2020, Eleyna was accepted to UpStart's first National Entrepreneur Sprint cohort for early-stage ventures – just as COVID hit.
Even looking past the added challenges of 2020 – like how to replicate the warmth of the living room Alef Bet experience virtually – entrepreneurs face any number of challenges related to their ventures.
"There are always hurdles that I run into building a program from scratch, and questions that come up for me, almost every day."
Through UpStart's 9-month program, Eleyna has benefitted from ongoing 1:1 virtual meetings with a coach, who provides her with strategic fundraising advice, insights on navigating partnerships, and who is encouraging her to write – and publish – her thinking nationally.
"Thanks to UpStart, I'm taking myself more seriously as a leader, and as an entrepreneur," says Eleyna. "To know that I have a coach, other leaders and an entire organization that is backing me – makes me feel like my ideas are important and should be spread."
Eleyna plans to bring the TischPDX model to other mid-size cities, after exit surveys showed that 100% of program alumni in Portland have reported feeling more comfortable in the mainstream Jewish community – and see themselves as Jewish leaders now.
"I feel like so many Jewish Community Centers, so many Federations, and so many Jewish communities are trying to figure out, 'How do we engage younger, unaffiliated, marginalized Jews?' And I think this model of finding and centering the work of marginalized Jews in our community who are leading is one way to do this."
Help UpStart apply bold leadership, ideas, and an entrepreneurial mindset to help our communities face today's biggest challenges. 
Our purpose is to enable entrepreneurs to bring bold Jewish ideas to light. We help them reach Up to people in new ways that are meaningful, more inclusive, and create a brighter future for our Jewish community and the world we share.
Recent Posts
Share This Story, Choose Your Platform!