UpStart is committed to ensuring that the Jewish future advances along the pre-COVID-19 trajectory of creativity, expansion, inclusion, and relevancy…with even greater urgency and determination.
Recognizing the potentially dire implications of COVID-19 on this sector, UpStart took swift action and immediately launched a series of interventions. We built out operational support and created the Jewish Innovator Payroll Relief Fund to provide up to $25,000 of payroll and benefits to the organizations in UpStart's network of over 100 ventures. We raised almost $800,000, distributing grants to 32 ventures, and providing a lifeline for these leaders to weather the emergent moment and strategically plan for the future.
Explore the impact and breadth of this work through the report.
[button url="https://drive.google.com/file/d/19WLLflYHHugsDE6rSjYmmsqWM8InoAtx/view?usp=sharing"]View the Report[/button]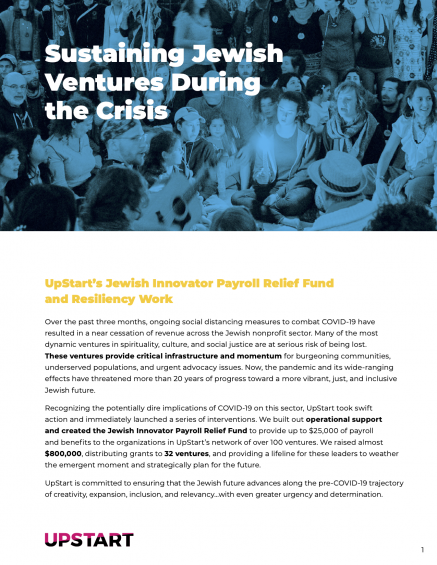 Our purpose is to enable entrepreneurs to bring bold Jewish ideas to light. We help them reach Up to people in new ways that are meaningful, more inclusive, and create a brighter future for our Jewish community and the world we share.
Recent Posts
Share This Story, Choose Your Platform!