A digital outlet for self-identifying Jewish teenage girls to share their voices with the world and each other.
A spiritually enriching Jewish sound bath.
An advocacy platform to address abuses of power in Jewish institutions.
These are just some of the groundbreaking initiatives UpStart is proud to support, along with the entrepreneurs who are leading them.
As individuals and organizations emerge to meet the changing needs of our community, UpStart provides the tools, network, and resources they need to ensure their bold Jewish ideas see the light of day… and shine brightly into the future.
The pathway from idea to impact isn't always clear, especially to a new leader. And for funders, it's not always clear which ideas will get traction and flourish. We have been refining our offerings to make sure even more high-impact entrepreneurs and their ventures are thriving.
The enhancements we've made to our programs means that entrepreneurs at every stage can get the targeted support they need to craft highly-relevant programs that bring people meaning and connection. In turn, Jewish communities across the country are becoming thriving hubs of change and creativity, and are building a more just, vibrant, and inclusive future.
Explore the impact and breadth of our work through the report.
[button url="https://www.upstartlab.org/wp-content/uploads/2019/03/EV-REPORT.pdf" target="_blank"]View the Report[/button]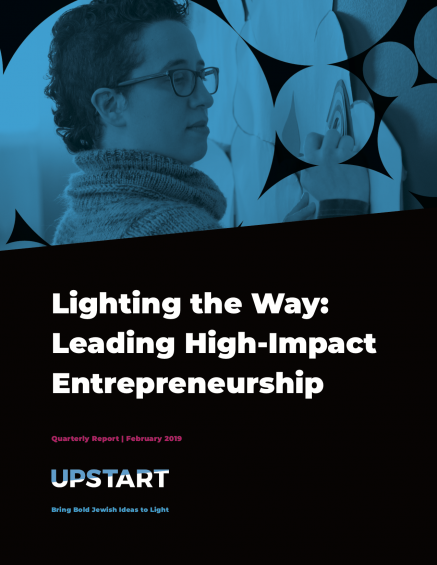 Our purpose is to enable entrepreneurs to bring bold Jewish ideas to light. We help them reach Up to people in new ways that are meaningful, more inclusive, and create a brighter future for our Jewish community and the world we share.
Recent Posts
Share This Story, Choose Your Platform!