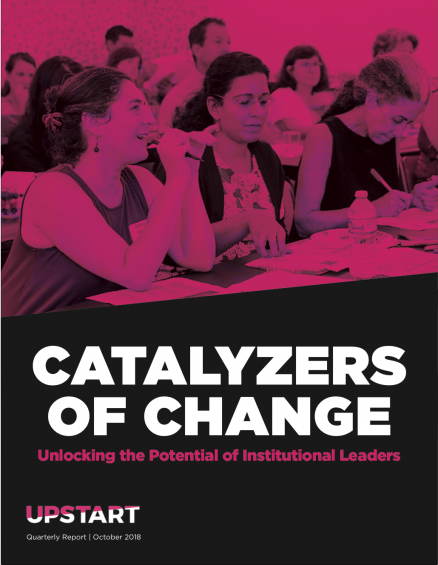 Catalyzers of Change: Unlocking the Potential of Institutional Leaders
Twenty years ago, the Jewish innovation to reorient their organizations towards a field emerged to create more dynamic opportunities for meaningful Jewish engagement. The field aimed to support burgeoning changemakers, to spur experimentation, and to promote the shift in culture needed for new opportunities to flourish. We started by investing in the growing potential of Jewish social entrepreneurs (and their groundbreaking ventures) as architects of the Jewish future. We provided a platform for them to dream, build, and grow bold initiatives that enhance the vitality of Jewish life.
As these social entrepreneurs grew in number and name recognition, so did interest in UpStart's services from more established institutions that aspired to adapt to an evolving world. These institutions and their intrapreneurs (leaders with the entrepreneurial drive to create institutional change) represented immense untapped potential. Whereas entrepreneurs were struggling to build basic infrastructure and develop resources, intrapreneurs had resources at their fingertips, but lacked the skills and authority to act as bold agents of change.
Entrepreneurs and intrapreneurs were essentially asking many of the same questions: How do I create an expression of Jewish life that meets the needs of today's Jewish population? How do I build and sustain something meaningful? And, how can I most effectively ensure that Jewish tradition remains meaningful for years to come?
This report represents a snapshot of how we're helping intrapreneurs and their institutions answer these questions. In FY18 and FY19 alone, we've already worked with 859 intrapreneurs and institutional leaders across 269 organizations to launch and adapt offerings that speak directly to the needs of their communities.
Read on for highlights about how these intrapreneurs are building a more just, vibrant, and inclusive Jewish future. We hope this report imbues you with the same optimism we have about this work.
[button url="https://www.upstartlab.org/wp-content/uploads/2019/11/II-REPORT-2019-v1.pdf" target="_blank"]View the Report[/button]
Our purpose is to enable entrepreneurs to bring bold Jewish ideas to light. We help them reach Up to people in new ways that are meaningful, more inclusive, and create a brighter future for our Jewish community and the world we share.
Recent Posts
Share This Story, Choose Your Platform!