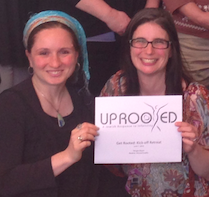 SUMMARY
Uprooted was born from the idea that one can feel uprooted from one's self, one's community, one's vision for the future, and one's body when going through family building struggles. Often, those struggling to grow their families feel isolated from the Jewish community both socially and spiritually.
Through programming, advocacy and ritual creation, Uprooted educates American Jewish leaders in assisting families with fertility challenges, and provides national communal support to those struggling to grow their families.  As Jewish values and tradition emphasize the importance of family and growing one's family, Uprooted aims to create an American Jewish community where those struggling to achieve this goal feel supported and welcomed. Uprooted is a registered 501(c)3 organization.
Share This, Choose Your Platform!