How my atheist husband and I used design thinking to plan our big day
By Lisette Zaid | Oy!Chicago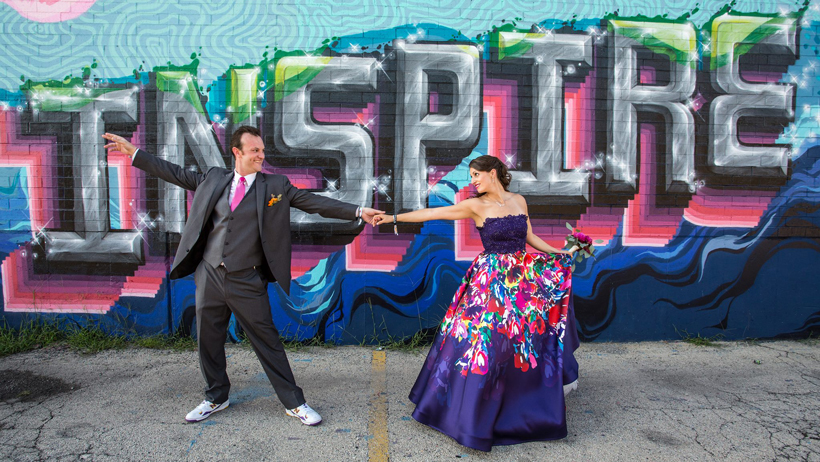 Photo Credit: Benjamin J. Gonzales
On July 22, 2017, I did the one thing I never imagined possible. I married someone who is not Jewish.
This revelation may seem a bit ho-hum — I am certainly far from alone in this choice. But if you knew me, you would know this was very unexpected. To quote one of my well-intentioned loved ones when she found out about our relationship, "we just never worried about that with you."
But I was the one who was worried. I, a lifelong Jewish professional who has not always been open-minded about intermarriage, had put together in my mind the perfect "How To" guide for my Jewish future. I would picture my (Jewish) husband and I proclaiming to our mothers which holiday would now be ours to host. We'd pool together our mezuzot and find just the right one for each room in the house. We'd take our children to Israel, and show off our favorite places from our respective Birthright Israel trips. It seemed so easy.
And then I fell in love with Ben. Ben has no Jewish identity. He has no religious identity. He is a proud atheist and healthy skeptic. Sure, his family does Christmas and he enjoys this one time of the year when they are all together. Unlike me, he wasn't planning his future based on spiritual and cultural posterity.
From day one, he knew I was Jewish and that my Judaism was important to me. Ben understood that being with me meant stepping into an unfamiliar world with unfamiliar rituals, smells and sounds. I understood that being with him meant allowing for the debate and questioning of faith, and that he may never feel comfortable joining me in a "Baruch atah …
I'm embarrassed to admit that for the majority of our relationship I left Ben out of the Jewish stuff. I didn't want him to feel pressured, and I felt like it was my world, not his. My own bias and experience partially wanted to protect him … us … me, from the judgment that sometimes popped up when I admitted to being in a relationship with a non-Jew. He has no clue how many people have pulled me aside and said, "but he's converting, right?"
And if I'm being 100 percent honest with myself, I had no clue how to religiously integrate with an atheist — we had no common language of spirituality. That worry sat in my kishkes. "Can I be happy with a spiritually passive partner in my Jewish life?"
One magical day, Ben proposed, and I said yes. My imaginary "How To" book for living the perfect Jewish life had to be thrown out the window. My new challenge: how was I going to build a Jewish life with someone who had no Jewish building blocks to offer and was not spiritually inclined?
In my day job, I've spent the last two plus years practicing Design Thinking. Put simply, Design Thinking is a set of tools used worldwide to come up with creative solutions to complex problems. If I've learned anything from its core process, it's that designing a meaningful solution to any challenge has four main elements:
A better understanding of what the people involved value. We unearth that through a process called "discovery."
Reframing your problem as an opportunity.
Having an open mind with the ability to imagine.
Being willing to test out new ideas and see where they take you.
Our Discovery
When you engage in this process nearly every day, it's hard to turn it off when you go home at night.
I remember the exact moment it hit me. My worries about our wedding were building up — I still hadn't figured out how to create the Jewish wedding I needed without making my partner spiritually uncomfortable. I remembered something Ben said awhile back when he noticed I was keeping him at an arm's length from my Jewish world, "I want to share a life with you. I want to be with you wherever you go, even if it's not what I believe or something I directly partake in. I just ask that you think critically about the religious choices you make and articulate to me why they are valuable to you."
It all starts with unearthing and understanding what people value. I had taught others that premise countless times, but it wasn't until then that I realized its relevance to my personal life. Ben and I started using the Design Thinking process to unearth what we cared about most. I valued having a Jewish officiant, a ketubah, a chuppah, seven blessings, breaking the glass — many of the staples that made me feel like it was a marriage ritual. He valued having loved ones involved, saying our own vows, having a friend officiate, integrating the story of how we met into the experience, and hosting a reception that gave people a taste of our life together.
The Reframing
I began to reframe the problem as an opportunity, using the language I'd become so familiar with: How Might We… have a meaningful wedding that respects and showcases both of our identities? This framing gave us hope and optimism and helped us open ourselves to new possibilities.
Imagining Together
Then, we started imagining the ways we could solve our "How Might We." Keeping an eye on what we valued, we dreamt about what our wedding would look like if we did absolutely everything our hearts desired. We followed each other's ideas with the phrase "Yes, and…," a mindset that encourages seeing others' ideas as building blocks for generating your own. Then, we slowly narrowed ourselves to what felt most realistic and important.
The Big Test
We enthusiastically designed ways to blend what we valued. Fluent in graphic design, Ben worked with a dear friend and ketubah artist to design a marriage contract with a beautiful graphic representation of how we met. One of Ben's dearest friends was both Jewish and ordained, an obvious choice for our officiant. We engaged our loved ones in decorating our chuppah. A talented DJ, Ben insisted on playing his own wedding, and took it upon himself to remix his own version of the Horah.
And then we took the leap and put our first Lisette & Ben Jewish experience in front of our friends and family. It was like a prototype of what our life — our Jewish life — would be together.
The feedback from the people I was most concerned about, my family, my parents' friends, and my fellow Jewish communal professionals, was that it was one of the most meaningful weddings they had ever seen.
I'm no longer worried about how I'm going to build a Jewish home for my family. Using the wisdom of Design Thinking, my Italian, Scots-Irish, Swedish, atheist husband created our Jewish wedding with me. I know that we are not just life partners, but life-long co-designers of a shared life, one with Jewish tradition and celebration at its heart.
Lisette Zaid is currently the Development Manager at the Libenu Foundation and was formerly the Chicago Design Strategist at UpStart.
Our purpose is to enable entrepreneurs to bring bold Jewish ideas to light. We help them reach Up to people in new ways that are meaningful, more inclusive, and create a brighter future for our Jewish community and the world we share.
Recent Posts
Share This Story, Choose Your Platform!