by Aaron Katler, UpStart's CEO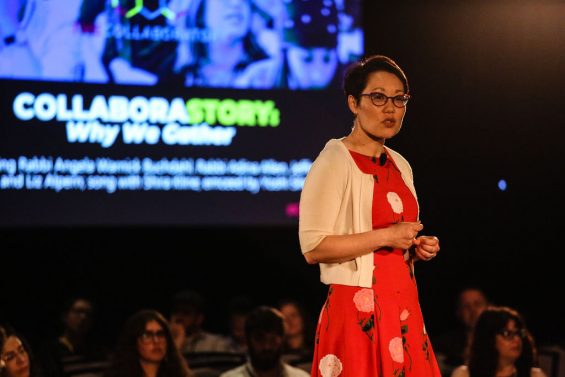 Several weeks ago, nearly 500 people gathered in Brooklyn to learn and connect for our annual gathering, The Collaboratory. Our biggest convening ever, this year's theme was 'Reimagine Gathering,' which spurred important conversations about new ways of coming together, who's gathering (and who isn't), and why we're called together in the first place.
As our team wound down from an all-hands-on-deck event, we entered into Pride Month, a time to celebrate diversity and reflect on the impact that LGBTQ individuals have had on national and local history. This month also holds Juneteenth, commemorating African-American freedom in the United States. The proximity of these events gave me pause for reflection. The Collaboratory is intended to be a window into "what could be" in Jewish life—a future where Jewish social entrepreneurs, institutional change agents, and philanthropists are continually creating and renewing experiences that expand access to Jewish life and enrich the world around them. The Collaboratory network is partnering every day to build this more vibrant, just, and inclusive future.
At The Collaboratory, we try to create an environment that challenges people to take risks, to be bolder in their thinking, and to see our community from different perspectives. We're definitely not a tech company, but I see what we do at The Collaboratory as a kind of augmented reality (AR). AR utilizes technology to enhance objects or experiences in the real world to create a new, or enhanced reality. Except at The Collaboratory, we're not using fancy technology–we're harnessing the creativity and vibrancy of an intentional network to create models of the community we envision.
Holding space for a diverse network means creating a reality where consent and varying Jewish practice are respected and highlighted. This year, we made buttons for people to wear indicating how they like to interact with others, ranging  from "hugger" to "high-fiver" to "waver/shomer negiah." You can read UpStart Communications and Content Manager, Elisheva Thompson's article about how—and why—we generated those here.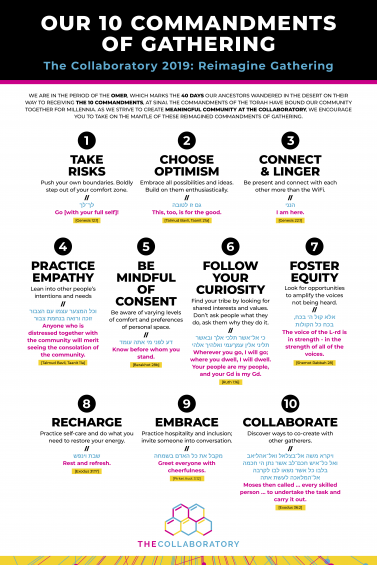 We created "Ten Commandments of Gathering," instructions to guide our actions and behavior, rooted in Jewish texts, such as:
Foster equity. Look for opportunities to amplify the voices not being heard.
אֶלָּא קוֹל ה' בַּכֹּחַ, בְּכֹחַ כָּל הַקּוֹלוֹת
The voice of the Lord is in strength – in the strength of all of the voices.
—Shemot Rabbah 28
Be mindful of consent. Be aware of varying levels of comfort and preferences of personal space.
דע לפני מי אתה עומד
Know before whom you stand.
—Berakhot 28b
We briefed our security team with the expectation that the team would not engage in racial or other profiling of our participants, recognizing that security for all should never come at the cost of safety for some. Creating a just and inclusive future takes this kind of intentionality every step of the way–and it's a process that is continually ongoing.
We missed the mark in a few places, too. We were too late in asking the hotel about providing gender-neutral bathrooms, and our non-binary participants didn't have the access they needed. Some of our panels and discussions reflected the diversity of our community, while others did not. We're learning and working to make ourselves better every day.
And we're grateful for those who shine a light onto how we can learn. Internally, we established a Diversity, Equity, and Inclusion (DEI) culture crew, essentially an internal task force (learn more about our culture work here) to explore standards and accountability around DEI at UpStart. The crew, under the leadership of our Los Angeles Design Strategist, Danielle Natelson, is working with UpStart Associate Suzanne Feinspan to conduct a DEI assessment, which will reveal both strengths and gaps in how we embrace these values at UpStart. The crew has also been a valuable resource as we integrate DEI principles into our work, including aspects of this year's Collaboratory.
We are also learning from the leaders and organizations who are calling on all of us to rethink just who our "community" is. This past month, a number of organizations and initiatives released groundbreaking reports on Jews of Color, Gender Equity, and Gen-Z. This important research should inform how we "reimagine gathering" as a community, and calls on us to build Jewish spaces that reflect our deepest values.
While this might come as a surprise, we don't have an events team at UpStart, or even a dedicated event planner. Like most organizations, we don't have a sole staff member working on diversity, equity, and inclusion. What we do have is a committed team of professionals and lay leaders who work with integrity to live out UpStart's values of empathy, optimism, collaboration, and risk-taking—and for that, I feel an immense amount of pride.
Our purpose is to enable entrepreneurs to bring bold Jewish ideas to light. We help them reach Up to people in new ways that are meaningful, more inclusive, and create a brighter future for our Jewish community and the world we share.
Recent Posts
Share This Story, Choose Your Platform!