It's been months in the making, and we're thrilled to announce UpStart's new look and feel.
We're still doing the same groundbreaking work, but with a fresh new website, color palette, and tagline that makes our brand (another way of saying 'reputation') pop.
For the majority of our existence, "UpStart" and "Jewish innovation" have been almost synonymous. From our entrepreneurial roots to our national network of Jewish changemakers, "innovation" has been central to our identity. And yet, we're about so much more. Innovation is a process, and we're about impact. Our embrace of innovation is a means to a much greater end.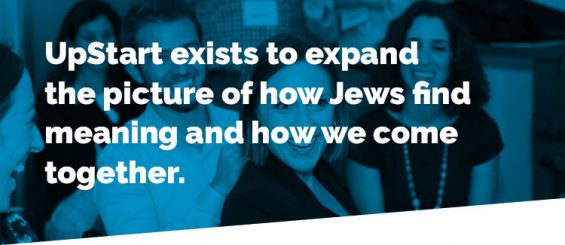 We partner with the Jewish community's boldest leaders–whether they're starting a new Jewish venture or reimagining an existing one–and give them the entrepreneurial tools and network they need to build the Jewish community of the future.

Our new brand elements animate how we're fulfilling this commitment.

Our new tagline lifts up how we are building the Jewish community of the future: by guiding and supporting our network as they build ideas into sources of meaning and connection for our evolving community.

Our new look and color palette represent our unique blend of creativity and business know-how. The ascending line in our logo creates a horizon that symbolizes both our deep commitment to progress and our abiding optimism in a bright Jewish future.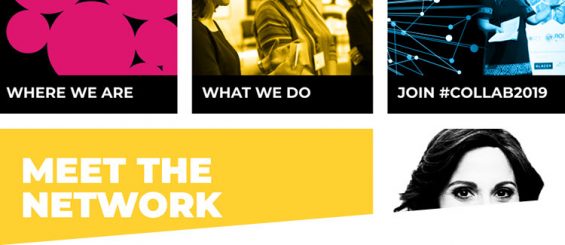 Our new website brings all of these elements together, with a dynamic homepage that invites you to experience brightness and change with the simple move of your mouse. Play around on the site—we'd love to hear what you think.
We chose light as an animating theme because we aspire to be an illuminating force, charting new paths in Jewish life. Light also represents one of our guiding beliefs: that the ner tamid (eternal flame) only burns bright because trailblazing leaders stand up in every generation to reignite it.
Our purpose is to enable entrepreneurs to bring bold Jewish ideas to light. We help them reach Up to people in new ways that are meaningful, more inclusive, and create a brighter future for our Jewish community and the world we share.
Recent Posts
Share This Story, Choose Your Platform!