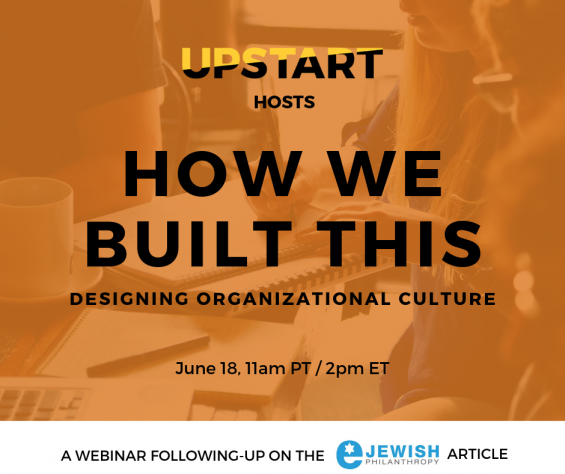 When you're a growing organization and hiring quickly, it may seem less important or too time-consuming to delve into seemingly aspirational issues like culture. But in order to scale a new venture successfully, or to make a deeper impact within a larger institution, explicitly articulating your aspirational culture is key.
In this 60-minute webinar, participants will learn about UpStart's 4-step process to assess, diagnose, develop, and codify organizational culture. Using UpStart's recent experience as a case study, participants will learn about different practices to intentionally create values-based culture–and how to apply them to their own organization.
Tuesday, June 18
11am PT / 1pm CT / 2pm ET
Facilitators: Taylor Epstein (Senior Director, Design Strategy), Jaime Rapaport Barry (Senior Director, Brand Strategy), and Jenny Kibrit Smith (Senior Director, People & Systems)
Questions? Reach out to info@upstartlab.org.